Overview

Patients and doctors often confuse the terms heel spur and plantar fasciitis. While these two diagnoses are related, they are not the same. Plantar fasciitis refers to the inflammation of the plantar fascia--the tissue that forms the arch of the foot. A heel spur is a hook of bone that can form on the heel bone (calcaneus) and is associated with plantar fasciitis. About 70 percent of patients with plantar fasciitis have a heel spur that can be seen on an X-ray. However, many patients without symptoms of pain can have a heel spur. The exact relationship between plantar fasciitis and heel spurs is not entirely understood. Heel spurs are common in patients who have a history of foot pain caused by plantar fasciitis.

Causes

The cause of heel spurs is excessive strain placed on the plantar fascia over a long period of time, as a result of different factors. These factors include incorrect gait, being overweight, ageing or being in a job that requires a lot of standing on hard floors. It is usually a combination of any of these factors that will bring on the development of heel spurs.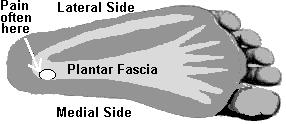 Symptoms

If your body has created calcium build-ups in an effort to support your plantar fascia ligament, each time you step down with your foot, the heel spur is being driven into the soft, fatty tissue which lines the bottom of your heel. Heel spur sufferers experience stabbing sensations because the hard protrusion is literally being jabbed into the heel pad. If left untreated, Plantar Fasciitis and heel spurs can erode the fatty pad of the heel and cause permanent damage to the foot. Fortunately, most cases can be resolved without medications or surgeries.

Diagnosis

Heel spurs and plantar fasciitis is usually diagnosed by your physiotherapist or sports doctor based on your symptoms, history and clinical examination. After confirming your heel spur or plantar fasciitis they will investigate WHY you are likely to be predisposed to heel spurs and develop a treatment plan to decrease your chance of future bouts. X-rays will show calcification or bone within the plantar fascia or at its insertion into the calcaneus. This is known as a calcaneal or heel spur. Ultrasound scans and MRI are used to identify any plantar fasciitis tears, inflammation or calcification. Pathology tests may identify spondyloarthritis, which can cause symptoms similar to plantar fasciitis.

Non Surgical Treatment

Elevation of the affected foot and leg at rest may diminish the pain. Applying gentle heat to the painful area may ease the pain by dilating local blood vessels. One also can protect the heel by placing a foam rubber pad in the heel of the shoe. A pad about one-half inch thick will raise the heel, shift the weight of the body forward, and protect the irritated muscles attached to the heel bone. The same effect can be achieved by using adhesive tape to turn the foot inward. Additional treatment may consist of a number of physical therapies, such as diathermy, ultrasound waves and whirlpool baths.

Surgical Treatment

Almost 90% of the people suffering from heel spur get better with nonsurgical treatments. However, if the conservative treatments do not help you and you still have pain even after 9 to 12 months, your doctor may advise surgery for treating heel spur. The surgery helps in reducing the pain and improving your mobility. Some of the surgical techniques used by doctors are release of the plantar fascia. Removal of a spur. Before the surgery, the doctor will go for some pre-surgical tests and exams. After the operation, you will need to follow some specific recommendations which may include elevation of the foot, waiting time only after which you can put weight on the foot etc.

Prevention

Prevention of heel spur syndrome may be best by finding a good supportive shoe. Never go barefoot or wear a flat soled shoe. There are many over the counter arch supports that give increased support for your feet. Usually when there is excessive pronation the Achilles Tendon contracts or becomes shortened over time since it is not being used fully. The shortened Achilles Tendon is called an equinus deformity. By keeping this tendon stretched it may decrease some of the tension in the foot. Some theories believe the Achilles Tendon and plantar fascia is continuous. Before you get up from rest, stretch out your Achilles and the plantar fascia. You may attempt to spell the alphabet with your foot and ankle, use a towel against pressure on your foot, or roll a can of soup or sodapop on the ground. Ice may work well at the times of severe pain. For a chronic pain, or longer lasting pain heat therapy may improve the condition.